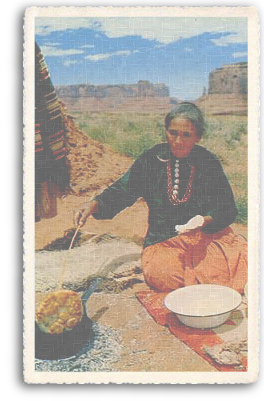 Delicious, Traditional Food at Indian Market

Food Vendors at the Market
Dozens of food booths offering a variety of meals and snacks are a highlight of Indian Market. American Indian specialties can be enjoyed at a table at the food tent or in a shady spot in the area.

Some of the unique regional foods available are: blue corn pancakes, blue corn bread, Navajo cake, posole stew, roast mutton, steamed corn stew, Frito pie, Navajo tacos, fry bread, blue corn mush, breakfast burritos, enchiladas, green chile stew, Indian burgers, stuffed fry bread, tamales, oven bread, and Indian pie.

Most of the recipes are traditional and have been handed down by the ancestors of the booth operators. Many of the people chosen to serve food have been participating in Indian Market for a long time, some for 20 to 30 years.

A lot of the food offered comes from Pueblo living. Pueblo women have passed it on for generations, from grandmothers and aunts, and on down the line. The vendors get up around 3 a.m. to start cooking for the day ahead, but participating in Indian Market is something they truly enjoy doing.

Some Favorite Foods at Indian Market
Pueblo Breakfast: Fry bread stuffed with bacon, chile, cheese and onions.
Breakfast Burrito: Pork sausage, potatoes and eggs, garnished with lettuce and salsa, with a choice of red or green chile.
Blue Corn Mush: This takes about an hour to make. Blue cornmeal is stirred slowly into boiling water; then honey or sugar and a little salt is added.
Navajo Taco: Fry bread topped with fresh pinto beans, cheese, lettuce, onions, tomatoes and salsa.
Indian Burger: The usual burger ingredients on a homemade bun made from fry bread dough.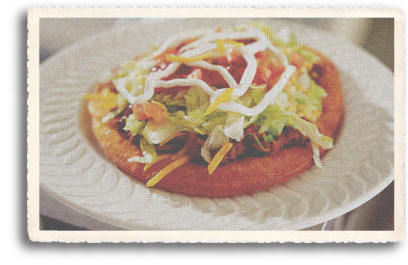 Indian Market Recipes

Indian Market Food Sources

Back to Indian Market History